One of my newer works was inspired by these socks:
I was in a bit of a design rut and not feeling very creative.  One day I opened my sock drawer and realized I had a lot of cute socks! (Yes, I will freely admit to having a sock obsession.)
Then it hit me!  By doing designs based on my socks would be a fun and interesting challenge that could help get me out of my creative rut.
So, for the month of February, I photographed my socks daily and am currently coming up with designs based on various elements (design, color, etc.).
I wore the airplane socks on February 1st and this is what I came up with: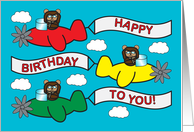 (Clicking on the image will let you see a larger version at Greeting Card Universe.)
Interestingly enough, this design was just approved by Greeting Card Universe today!  It is also available in my Zazzle, Red Bubble, Imagekind and Skreened shops.
What do you do to get out of a creative rut?  What's the most interesting thing that has given you inspiration.
Here's some other artwork and artist you might enjoy!